Travel Place
Get the Most out of Atlanta Without Spending a Dime: Free Things to Do in the City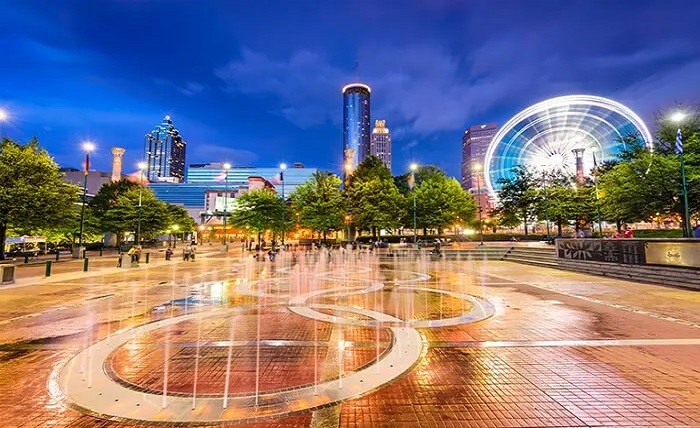 Atlanta, the capital of Georgia, is renowned for its dynamic atmosphere, steeped in a storied past, cultural variety, and iconic points of interest. However, it is worth noting that Atlanta boasts many cost-effective options for tourists and residents, which should be noticed more. Atlanta offers many cost-free activities for individuals seeking to delve into the city's rich history, relish in its natural beauty, or immerse themselves in its lively arts and culture scene. 
This article aims to showcase some of Atlanta, Georgia's most noteworthy cost-free attractions and activities.
Free Things to Do in Atlanta-
Here are a couple of free things you can do in Atlanta:
Explore the Atlanta Beltline
Visit the 22-mile Atlanta Beltline, which links neighborhoods. Beautiful parks, public art, and city vistas await visitors. Walking, cycling, or running the Beltline gives a unique view of Atlanta's different neighborhoods. The Beltline hosts free concerts, art festivals, and fitness programs.
Visit the Georgia State Capitol
Atlanta's Georgia State Capitol houses the state's legislature. A free Capitol tour reveals Georgia's history, governance, and legislative process. The Capitol also has a Georgia History and culture museum.
Visit Piedmont Park to Take in Some Fresh Air
Atlanta's 200-acre central park is called Piedmont Park. This park has breathtaking views of the city skyline, walking routes, sports grounds, picnic spaces, and more. Visitors can unwind with a yoga or fitness class, get some fresh air, or just take in the park's scenic vistas for free.
Take In Some Art At The High.
The High Museum of Art in Midtown Atlanta is a prestigious art museum known for its extensive international collection. On the second Sunday of every month, as well as for those under 18 and with a valid student ID, the museum is accessible to the public. Visitors to the museum can peruse the collection, listen to a gallery presentation or tour, or take part in a creative workshop—all at no cost.
Discover the Atlanta History Center
The Atlanta History Institute is a super cool place, like a museum and research center. They're all about exploring and understanding Atlanta's incredible history and diverse culture. The museum has some cool stuff to check out, like old Civil War stuff, historic houses, and gardens. You can check out the cool exhibits, join a free lecture or activity, or take a guided tour of the old mansions and gardens.
Visit the Center for Civil and Human Rights
The Civil and Human Rights Institute is a dope organization like a museum and school. They teach about the past and present fight for civil and human rights. The center has information about the American civil rights movement and global human rights issues. You can check out the excellent exhibits at the center, join a free program or lecture, or go on a supervised adventure.
Our Recommendation-
We recommend visiting Martin Luther King Jr. National Historic Site.
Situated in the Sweet Auburn neighborhood, the Martin Luther King Jr. National Historic Site is an essential destination for individuals with a keen interest in civil rights history. The location comprises the birthplace, church, and burial site of Dr. King, in addition to a museum and visitor center. Complimentary tours of the esteemed area are available to guests, providing an opportunity to gain insight into the life, legacy, and influence of Dr. King on the civil rights movement.
FAQ
Must I pay to check out Martin Luther King Jr. National Historic Site?
If you're a tourist, you can take a free tour of the Martin Luther King Jr. National Historic Site and learn about Dr. King's life and legacy. Cool, right?
Is it okay to bike or walk on the Atlanta BeltLine without any worries?
Many folks bike, jog, or walk on the Atlanta Beltline daily, which is usually considered safe. Just be careful and keep an eye out for anything sketchy.
So, is there a free tour of the Georgia State Capitol or what?
If you're into history and government stuff, you should check out the free guided tour of the Georgia State Capitol. You'll learn about the state's history, how the government works, and how laws are made.
What kind of stuff can you do at Piedmont Park?
Piedmont Park throws down some sick-free events all year round, like concerts, movies, workouts, and festivals.
Is getting into the High Museum of Art always free?
You must pay for the High Museum of Art. On the second Sunday of every month, the museum hooks up free admission for kids under 18 and college students with valid IDs.
What kind of stuff can you see at the Atlanta History Centre?
The Atlanta History Centre has a sick collection of exhibits, like old houses, gardens, and stuff from the Civil War.
Conclusion 
So basically, Atlanta's got a bunch of cool free stuff to do and a rich history. This fabulous city down south has everything – whether you're into history, nature, or art, there's something for you. If you're visiting Atlanta, you can have a blast without spending much cash! You can check out cool stuff like learning about the civil rights movement or taking in the beautiful scenery. This wonderful southern town has got it all – from cool historical spots to sick museums and parks that are top-notch.