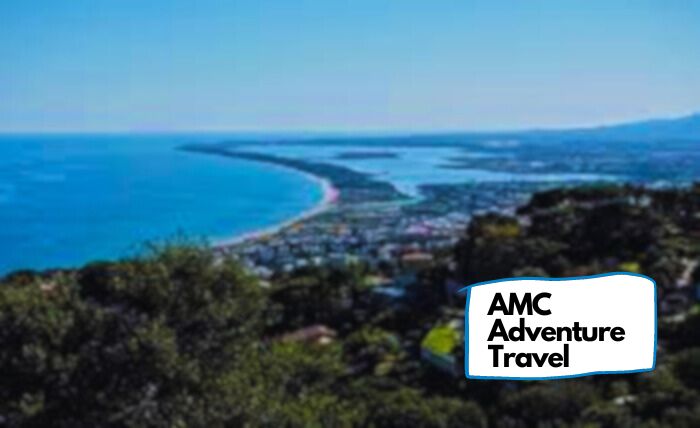 Who needs a vacation? I know I did! So I went to the Moose Point Cabin to gather the best hiking experiences I could.
It was awesome!
I was never too into hiking, but I decided to take the trip anyways. And it went and became my best decision.
Yes, it was hard at first, all the walking and the body aches, but it got easier after the first few days. I even went biking, canoeing, and fishing!
All thanks to AMC Adventure Travel!
Yeah, I went with their volunteer travel guide and made a new friend who was incredible and made the adventure even more worthwhile. 
That's why I recommend working with AMC Adventure Travel. And now, I'll share some of my experiences.
Moose Point Cabin with AMC Adventure Travel
I booked with AMC Adventure Travel from their website to enjoy a volunteer-guided trip with some of my friends.
Easy booking!
I had some questions that the senior manager of this Adventure Travel program answered very politely.
After everything was in order, my friends and I set out for our adventure!
How?
We went to the Moose Point Cabin on a logging vehicle. It was a really bumpy ride, but our travel guide, George, made it so much fun.
He shared his plans for us and even took our advice on what to do and when from the get-go. George was basically a volunteer tour guide who had been through this journey a few times through the same program.
He's my friend now!
When we reached our cabin, we were just amazed at the sight of it. It was so welcoming after the bumpy ride, and it all looked so serene.
After settling in, George took us for our first small hike, where we went to Lake Chebogan. Taking in nature while we hiked was a breath of fresh air.
There, we canoed!
The Adventure Travel program set us up with canoes near the cabin. We all knew it was coming, and we were so excited.
I had never gone for canoeing before, unlike some of my friends. But I had nothing to worry about, as George was there to guide us through it all.
He made sure we all had proper protection before we started. And it was phenomenal, to say the least.
We canoed 10 miles!
Yes, it was tough on our arms, especially mine. But, oh, was it worth it! We were on the water for about 4 hours! I can't explain in words how good it felt.
When we came back, it got dark. So George helped us make a campfire. We were all so tired and just wanted to rest and end the day.
George was not having it!
He made us play silly games like name that tune, five daily facts, and even Truth and Dare. I felt like a child again, and it was refreshing!
We even sang songs and made smores! Hours went by, and we didn't even feel tired anymore. We were just lost in our games!
Just the beginning!
We did so much right after getting there that it felt like we had already spent a couple of days. But it was just the start of our adventure.
The next few days, he hiked some more, went biking, did fishing, and even went canoeing because it was that much fun for everyone the first day.
We got everything we were promised by AMC Adventure Travel and more. And this non-profit even gave us back the money that wasn't spent.
Conclusion
AMC Adventure Travel is one of the best non-profit programs for arranging amazing tours with family, friends, or even strangers, soon to become friends. It was an experience of a lifetime, and I will never forget it!