Travel Place
Best Time To Visit Cancun When To Go And When To Avoid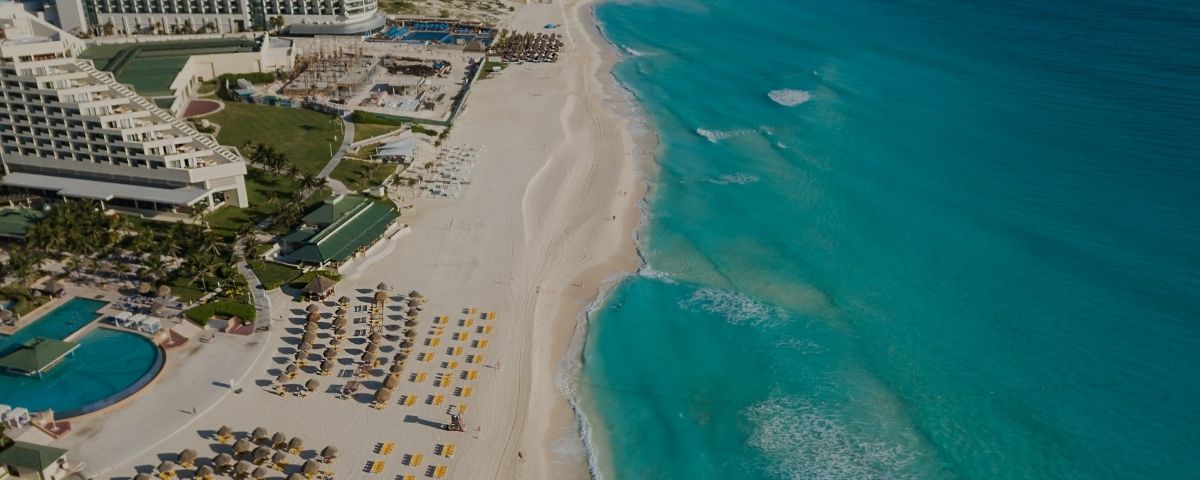 People do not always want to be in one place. Wants to change the environment. This change happens through travel. You can go anywhere on the trip. You can go on a Cancun trip if you want. Cancun is a great and beautiful place to travel.It has a lot to see and love. In this article, I discuss the best time to visit Cancun.
 Cancun is a favorite place for any time of the year. If you want to increase your enjoyment, you can save the appropriate time based on your preference regarding whether, average crowd size, and suggested activities. If you want, you can take advice from an expert to go on holiday travel. In this article, I will discuss with you the best time to visit Cancun.
Best time to visit cancun weather
The end of December at the Cancun peak season for tourism is more crowded in March.
October is the last time to visit the Cancun Wildlife (like sea turtles and whale sharks). 
From May to October r is Cancun rainy season runs until Cancun's budget watching a good time.
December and April are the best weather in Cancun.
April, May, November, and December Cancun is a good time to travel.
What are Cancun's Travel Seasons?
Cancun has three seasons for individual travel: low season, high season, and shoulder season. The performance of these three seasons is deteriorating. It is up to you which of these three seasons you will travel to. The season you like or prefer is based on the time you travel.
Cancun Low Season
Cancun Low Season arrives in June-October. Low Season days much-expected weather, sticky and heavy, frequent rain, and super hot. It is not always clear despite the rainy season. Usually, during these months, most of the short rains followed by sunshine. People avoid Cancun.
If you go to travel at this time, then you go to crowd-free hotels and crowd-free beaches. This is a good time to travel to Cancun on a low budget. This time, the price is lower than in many parts.
Cancun high season 
Cancun's high season extends to mid-December and March. During these months, crowds of people rent for New Year's warm weather and Christmas. March month Cancun beach resorts scattered party. If you want to travel during this time and see the peak season.Y
ou have to book in advance because there are many tourists during this time. Prices are skyrocketing this month, especially since Spring Break and Christmas. For example, it costs a lot to rent a hotel or a plane.  
Cancun Shoulder Season
Cancun Shoulder Season The best time to travel this season is to travel a lot safer. At the beginning of April, May, November, and December, Cancun marked by pleasant weather, scattered crowds, and logical reasoning. This season is the best place to travel if you don't want to gamble in the rain. This season you can travel as you wish and in peace.
Cancun Weather Monthly Guide For Visiting Cancun
Below are all the breakdowns of the festival, weather, and every highlights if you are planning to visit Cancun in the specific best month.
Weather in cancun in January
Highlight: a traditional holiday, great weather, and El Dia de Los Reyes or king day.
Average Temperature: 68 ° – 83 F.
January Cancun There is very little rain and more sun and heat. Usually, these days the balmy is 80 ° +. This is the first time it make to hit the sea. Cancun beach is great. This beach will help you to refresh. Christmas Break There will be a lot of crowds of tourists.
You will see more crowds as people are attracted, and dry prices are high season. Cancun January is the biggest festival of El Dia de Los Reyes or king day. This day marks the 12th day of Christmas and is celebrated in January.
On this day, gifts are exchanged in Mexican Bread, and sweets are traditionally and happily eaten in families. The traditional holiday that is given is Christmas. Where it is organized, drink with small children.
Weather in cancun in February
Highlights: Carnaval and sunny days.
Average Temperature: 67 ° – 82 F.
February Cancun is The best time to visit and enjoy Spring Break and Christmas. The weather is positively good during cool evenings. Cancun waters during February are very beautiful and quite humid. The days of this period are refreshing so that you can jump in the sand all day long.
The water is also very clean for diving and snorkeling. February Cancun is very crowded with tourists, and this is the best time to visit this place. Make sure you book your activities in advance. If you like the spot, then go to the beach fast. February in Cancun Carnaval is a festival that is celebrated for up to a week. Many Carnaval festivals in Cancun have many tequila, parades, live music, and treats to enjoy.
Weather in cancun in March
Highlights: Spring Break. Inception Music Festival. Wine and Food Festival. Tons of parties.
Temperature Average: of 69 ° – of 83 ° F.
The best time to visit Cancun is if you are a spring beaker. Cancun is one of the few large group residences at this time. There are many big parties in the city ​​of Cancun. These resorts drive the college kids crazy, and almost the beach is in the 24/7 line.
Cancun will see the biggest Spring Break party in the world. Wine and Food Festival's sophisticated experience can be taken from it. The five-day festival will see and enjoy beach parties, celebrities, winemakers, and good quality chefs.
 Weather in cancun in April
Highlights: Fewer crowds. Cancun's Anniversary. Great weather.
Average Temperature: 71 ° – 87 F
The April Shoulder Season begins to mark, and a lot of crowds. You can pack less than Mar chat this time, and it is empty at this time. At this time, you can book a safe place for yourself at a lower price. The month of April brings good weather, lots of rain, and hot days to Cancun.
April in Cancun on the beach, the best time to hit the beach is pleasant and warm water. You won't get the best chance to see the best attractions there because the risk of rain is a lot. In April, Cancun celebrates parades, Cancun's Anniversary, music, exhibitions, and various festivals throughout the month.
April 30 Children's Day or El Dia del Nino This is when children start without school. There are special discounts for many attractions.
 Weather in cancun in May
 Highlights: Nesting sea turtles. Cancun Jumpoff. Whale shark migration.
Average Temperature: 71 ° – 86 F
May is the best time to visit Cancun for the best experience, and it is a magical time. Cancun is the best time to explore wildlife, and the weather is not only near-perfect. At the end of May, shark whales begin to migrate, and nesting sea ​​turtles begin to appear on the beach.
Snorkeling or diving can Cancun miraculous creatures and will be able to experience the natural habitat. In May, in the Cancun resort party or contract, you will see and the Cancun, this month before Cinco de Mayo, show The star would have been canceled now.
 Weather in cancun in June
Highlights: Tourism is low. Dia de la Marin. Tons of whale sharks.
Average Temperature: 72 ° – 87
The Cancun hurricane season begins with the arrival of June, which is marked for shorter tourism periods. At this time, the temperature is more likely to rise, rain chances are higher, and the temperature remains modest. At the top of this month are the numbers of whales and sharks and dive into the sea to see the animals.
This month marks the end of the school year and the end of the academy. Dia de la Marin will see some teenagers. June 1 st, Mexico's Navy Day, is celebrated with loud noises and fireworks.
Weather in cancun in July
 Highlights: Destination X The Urban Summer Oasis. The little turtle cubs return to the sea.
Average Temperature: 72 ° – 88 F 
July is the best time to visit Cancun Wildlife for those who are wildlife lovers. This month the little turtles will be able to take a trip to the sea, and for the first time, it is an incredible sight to see small animals roaming the sea. You will be able to see in the distance of the beach, and you will find many opportunities there.
You will see many whale sharks this month. With the low season in July, you can get very good deals for low-cost accommodation and flights. Seawater is scattered and warmest this month. Cancun in July is a lot of fun because of the five-day festival with wildlife time, beach parties, DJs, bikini competitions, and Destination X, The Urban Summer Oasis.
 Weather in cancun in August
Highlights: less crowded, sea turtles, whale sharks dry.
Average Temperature: 72 ° – 89 F.
Cancun August is a fascinating month to talk about wildlife. Dry in the warm waters of the ocean, small tortoises bring whale sharks to continue their voyage to the sea, and they nest in the sea. This month the crowds are much less Cancun and much wetter, and there are many storms.
There are many places in restaurants, resorts, and attractions. Since there is a low season this month, the price of anything is good. Playa del Carmen for Zou is a 10-day dance festival at Cancun Forest and Beach this month.
Weather in cancun in September
Highlights: Price is good, weather is cool, Mexico's Independence Day.
Average Temperature: 72 ° – 87 F
In September the Cancun began to cool. This month is also the best time to catch sharks and whales and see sea turtles. Tours and hotel business are much better this month as it is a rainy month. This time the Cancun is not crowded. Mexican Independence Day is celebrated this month, and the festival begins in the suburbs on September 15.
Tequila, food, and mariachi bands can be celebrated till 11 pm. Enjoy El Grito or Independence Day with partying and fireworks. This Independence Day celebration is celebrated with a big parade downtown, and it is the 16th Independence Day.
Weather in cancun in october
 Highlights: Cancun Jazz Festival, Halloween. Budget prices
Average Temperature: 71 ° – 85 F 
In October, the Cancun weather is cool, low-cost accommodation, and it is the dream of the traveler. There is a lot of rain this month, and the sea is warm enough to hit. With less tourism this month, you can expand the sand and enjoy the tour as you wish.
If you go on a Cancun trip this month, be sure to pick up a Halloween costume. In October there are Cancun live concerts where you can take part and the Jazz Festival which lasts for four days.  
Weather in cancun in November
Highlights: Great weather, trekking, Dia de Los Muertos
Average Temperature: 70 ° – 81 F
November is the busiest month in Cancun, and less rain due to the Shoulder Season. The end of this month is the best time to visit the sea attractions because it is less hot and less crowded with tourists. Snorkeling at sea is great this month.
The 1st and 2nd day of this month is celebrated with the original image of Dia de Los Muertos or Day of the Dead Cancun, and the day the Mexicans pay their respects. There is a park where this time is celebrated with traditional experiences, offerings, family altars decorated, and sugar skulls to guide the house around. Cancun fashion hotel zone This time there are many parties.  
Weather in cancun in December
Highlights: Christmas & New Years' Eve. Christmas on the beach. Cancun Marathon
Average Temperature: 69 ° – 80 F.
December Cancun is the high season. The weather is much cooler earlier this month. If you want to see Christmas in the sea of ​​Cancun this month, be sure to book accommodation and flights in advance. Because at this time many tourists think of this idea.
This month, as you can expect, Cancun has northern weather resorts, restaurants, and beaches with crowds. This month Cancun in Marathon to celebrate, and with wild New Year and Christmas is celebrated. The town of Cancun celebrates many festivals for runners.
Where to Stay in Cancun
There are plenty of alternative ways to stay in Cancun. The most popular tourist attractions there are hotels in the Cancun region. If you are looking for a better place to stay than this, then go to Cancun Airbnb. Some alternative methods are great and expensive.
Conclusion of best Time to visit Cancun
Take a look at what you decide above is no time for you to travel to Cancun for a good and great time. You will determine the time that will depend on your money, weather, and tourist crowds, which will be a memorable day for you.