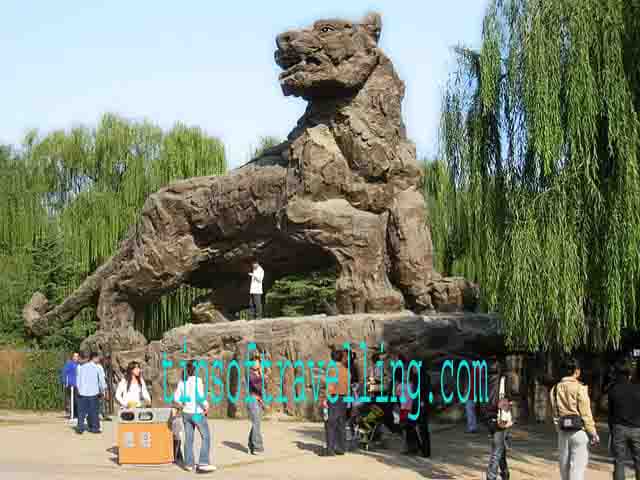 Everyone loves to travel to different places. The zoo is one of the best places inside. When we go to the zoo, we see different animals and have a great experience with different kinds of animals. In this article, I will discuss in detail with you the best zoo in the world.
San Diego Zoo, USA
The zoo was established in the year 1916. There are more than 30000 animals of different species, just above 650. This zoo is the first open-air zoo.
Singapore Zoo, Singapore
Singapore Zoo is one of the best zoos in the world. The zoo is more popular because of Orangutan Island. This zoo is so famous because it has the largest trees and mammals in the world. All the animals are always open, but the zoo authorities have provided adequate security for visitors to these animals.
Loro Parque, Spain
That is one of the best zoos in Spain. It covers 33 acres and is one of the world's most famous for its parrot watching. You can buy tickets online to visit this zoo.
St. Louis Zoo, USA
It has about 1700 animal over seven 600 hundred species. Get off at the Emerson Zoo line station by the train to get to the zoo and get off here to see the zoo attractions.
Lisbon Zoo, Portugal
This zoo is like a garden. The zoo has about 300 species of animal, including 114 mammals and 157 birds.
Henry Doorly Zoo, USA
This zoo is one of the most popular in the USA. This zoo is famous for elephants, and you can come here and enjoy the sight of the elephant. You can also see more different animals, including white rhinos, cheetahs, sable antelopes, ostriches, and impalas, etc.
Rotterdam Zoo, Netherlands
Another name of the zoo is Rotterdam Zoo. It is one of the oldest in the Netherlands .its built around 5 acres, a place with about 181 species of animal.
Cincinnati Zoo & Botanical Garden, USA
This zoo is one of the best places in the world to enjoy wildlife and flora. The fifth oldest of its kind in the USA.ypu can see various animals from the king cobra.
ZSL London zoo, UK
It is the oldest scientific zoo in the world. This zoo is located in Regents Park in central London. It's content about 70 species of animals, including the Land of the Lions, Gorilla Kingdom, and Tiger Territory.
Zoo Berlin, Germany
Located in London, it was built in 1844.it is one of the oldest monuments in London .the zoo has more than 1380 species, and it has 20000+ animals. Inside of which polar bears and giant panda in one of them.
Zooparc de Beauval, France
It is one of the largest collections in France and Europe. There are over 10 thousand animals here, and they behave very friendly.
Australia Zoo, Australia
The zoo covers about one thousand squares acres and is visited by more than 70 thousand tourists every year.
Toronto Zoo, Canada
This zoo is top-rated and big. You can visit one zoo and experience seven zoos because this zoo has seven zoogeographic regions like Indo-Malaya, Africa, the Americas, Tundra Trek, Australasia, Eurasia, and the Canadian.
Beijing Zoo, China
This zoo is located in Beijing, China, and is very large. It is home to about 450 species of terrestrial animals and an aquarium of over 500 marine animals, including dolphins and sharks. And this zoo is very famous for pandas.
Smithsonian National Zoological Park, USA
This zoo is one of the most diverse in the united states. Here you will find African lions, Asian elephant, and giant pandas 
and the zoo entrance free.
National Zoological Gardens of South Africa, South Africa
It is the national zoo of South African and covers an area of about 200 acres. That is one of the eight largest zoos in the world.
Taronga Zoo Sydney, Australia
Located in Sydney, Australia, it is one of Australia's largest zoos and is over 100 years. Covering an area of 9 acres, the zo has eight zones with about 350 species of animal and is one of the largest zoos in the world keeping quail birds.
Los Angeles Zoo, USA
It is one of the best and most popular zoos in the world .there are about 200 species of 14000 animals.
Parque das Aves, Brazil
If you are a bird lover, then this zoo is one of the best zoos for you. Because it is very famous for birds and this is the here, you will see all kinds of birds. This park has Park Das Avas Has Blue and Yellow Makeo, Parts, and Toko many more.
Columbus Zoo And Aquarium, USA
It was once known as one of the best and most famous zoos in America. It is to see aquarium land and aquatic animal here. Make sure that You explore the Polar Frontier and the Asia Quest, and the North American region.
Moscow Zoo, Russia
This zoo is famous in Moscow. It is to have more than eight thousand animals. Its works well with animal feeding and breeding. Its breeds endangered species. That is a national zoo in the rasia.
Chester Zoo, UK
It is one of the most visited zoos in Britain. It is visited by around 2 million visitors every year. Advisor named it the 3rd zoo in the united state and the world.
Wellington Zoo, New Zealand
The zoo is one of the oldest zoos in New Zealand, and it has a rich history. There are over 500 animals here, including the monkey Iceland and grassland cat.
Conclusion
The zoos that have been named above are discussed in detail, and there is the best zoo in the world. You can visit these zoos with all your family members and at the same time have an excellent experience with different animals and birds.