Travel Guide
Why is Whitehaven Beach the best beach in the world?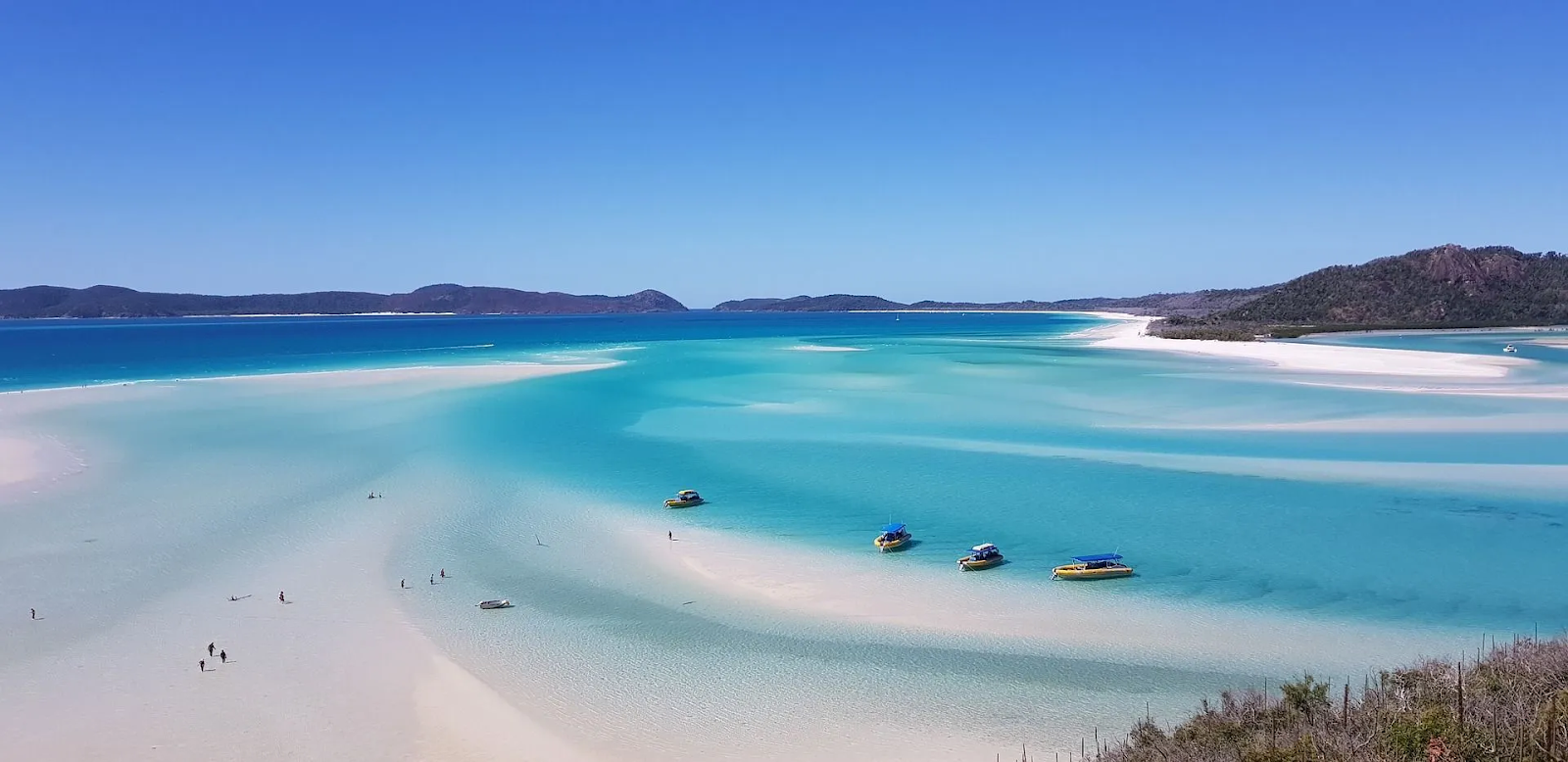 Since the pandemic has settled down now, you would like to visit the beaches to shake off the worries. According to TripAdvisor, Whitsunday's Whitehaven Beach topped as the world's best beach in 2021, Queensland, Australia. You would love the most beautiful stretch of white sand on this beach. 
It is a part of the Whitsunday Islands National Park, surrounded by the Great Barrier Reefs. This place is a treat to your eye. It is declared the world's most eco-friendly and cleanest beach. It also welcomes plenty of marine life, and you would get the best view from Hill Inlet Lookout, where you can play with magical swirling sands. 
Facts you need to know about Whitehaven Beach.
The Whitsundays is an enclave consisting of 74 tropical islands situated 34 miles (55kms) off the coast of Queensland, protected by the Great Barrier Reef. The clean, safe ocean waters around the island's private beach and concealed bays are suitable for swimming, diving, snorkelling, and sailing. 
Visitors travel in a seaplane to land over Heart Reef to relax on the pure white sands of Whitehaven Beach and stay in a luxurious suite on the islands to experience the breathtaking views of the beach. You can also avail a glass-bottom boat tour and a scenic helicopter ride to explore the islands.
The rocks seclude a hidden beach on the northern side of Whitehaven Beach. This Beach is known as Betty's Beach. During low tide, the sand of Hill Inlet shifts in direction and exposes these hidden beaches, which stretch for miles. You can get an overview of these beaches from 'Tongue Point'.
The sand of this Whitehaven Beach combines 98% white silica sand and aquamarine waters, whose stretch is 7km on Whitsunday Island. The local Ngaro Indigenous Tribe named this beach "Whispering Sands". The name is derived because of the noise created by the fine white sand beneath your feet while you walk on the sand. Some tour operators have also named the occurrence "barking spider".
The pure silica of this beach sand cannot hold any heat. The walk on the sand is very comfortable without having burnt marks on your feet. You can wear your jewellery to this beach because the silica present in the sand gives a bright polish to your ornaments.  
Where can you stay?
Suppose you want to make this trip more memorable by staying at a luxurious place. In that case, there is a cluster of options over the neighbouring islands. If you are looking for accommodation near Whitehaven Beach, you would like to stay on the mainland at the gateway of Airlie Beach islands. You would have multiple options of accommodations here that would suit your budget, especially for those who want to pack light. You can set down your tent on the sand of this picturesque beach at the National Park Campground at its southern end to immerse yourself in the breathtaking beauty of Whitehaven Beach. If you are after solitude, you can opt for a secluded area on the opposite side of the island at the overhead of the Chance Bay campground. 
How to get there?
It is best to visit Whitehaven Beach during the day to experience its beauty in broad daylight. This place gets busy with the ferries and the high-speed seaplanes, rafts, sailboats, yachts, motorboats, cruisers and many more catamarans from the Daydream Island, Airlie Beach, and Hamilton Island. You can book Whitehaven Xpress and ZigZag Whitsundays to reach Whitehaven Beach conveniently. You can explore the Red Cat Adventures and the Ocean Rafting, or you can book Wings Sailing Charters and iSail Whitsundays for longer trips offered by them.
Also, there is an option to explore Whitehaven Beach in a luxurious style. You can book a privately chartered yacht, seaplane, or helicopter for that. You can contact two standard tour operators to have such experiences: Air Whitsundays and Lux Whitsundays.
Best time to visit
While planning the trip to Whitehaven Beach in Queensland, Australia, you must remember that it is best to hit this beach at a specific season. The best season to visit here is Spring which means September – November. During this time, the temperature remains pleasant for the tourists, and the weather remains dry. This beach maintains its temperature at 26 degrees all around the year. Although, if you have an ardent devotion toward animals, you need to visit from June to September. This is the time to experience whale watching. 
Still, it would help if you packed some essentials like sunshades, hats, sunscreen lotions, and a swimsuit to dive into the ocean waters of this region.  
Final Thoughts:
They say take plenty of pictures as your souvenirs from this beach as your memory but leave your footprints here. It is still unknown where the bright white sand comes from, making the Whitehaven Beach unique and popular. The breathtaking views of Hill Inlets' magical swirling sands can remain imprinted in your memory for years. Start packing without delay because there is still time to visit Whitehaven Beach this year.