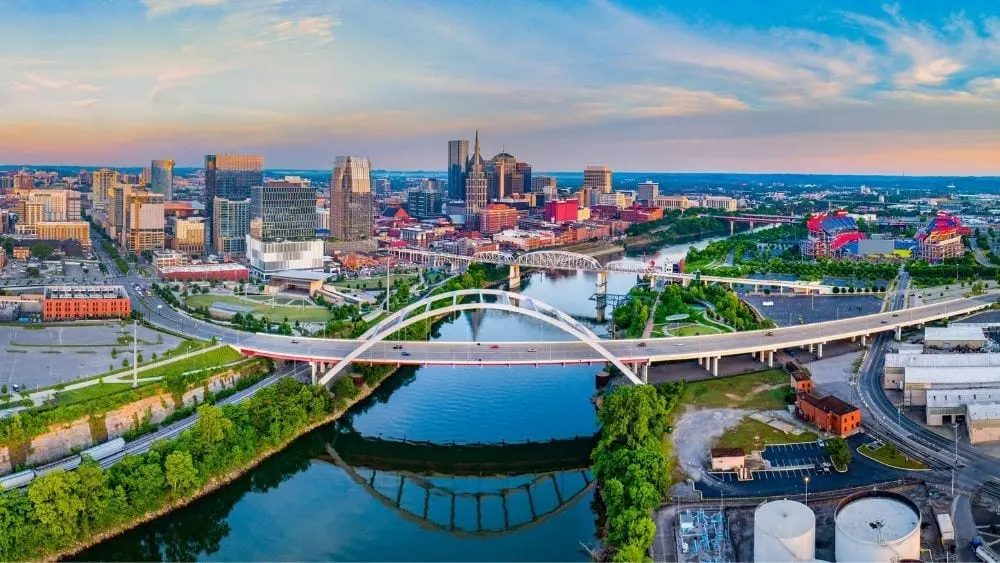 Tennessee is home to America's most-visited national park, Great Smoky Mountain National Park, which saw 12.1 million visitors in 2020, but it offers many fabulous cities to visit too. These are some of the top to put on your itinerary.
Chattanooga
Set along the Tennessee River in the foothills of the Appalachian Mountains, Chattanooga is filled with striking natural beauty and historic charms. Here you can go deep inside a mountain to view a 145-foot waterfall that's over 1,00 feet underground or visit Rock City with a walking path that passes unique rock formations. At the Tennessee Valley Railroad Museum, you can ride a restored vintage train back into history. There are special themed rides like the North Pole Limited trains that run during the holidays too. Chattanooga is also home to the Tennessee Aquarium, the Chattanooga Zoo, and a fun downtown area with plenty of shops and eateries.
Knoxville
An increasing number of people are discovering that Knoxville offers all of the amenities of life in the city, but living here you're never far away from tranquility, from the rolling hills of the Great Smoky Mountains to farmland, making it a hot spot to move to. Many have come to tour the Knoxville real estate, and whether or not you plan to do that, you'll find plenty of things to do. There are outstanding museums, a zoo, picturesque walkable riverfront, shops and malls, great restaurants, and a buzzing nightlife scene.
Nashville
Nicknamed Music City, U.S.A., there is no shortage of things to do for music fans in Nashville, and it's not just country, although you will find plenty of that. There are countless venues hosting live local and big-name national bands, while the Country Music Hall of Fame is well-worth a visit too with artifacts like Elvis Presley's gold Cadillac limo. You might tour Ryman Auditorium, take in a show at the Grand Ole Opry or explore the city's historic Civil War past at Belle Meade Plantation which includes columns that have bullet holes from the battle between the North and the South.
If you want to shop, there are many good options, including Opry Mills, the largest mall in the state and a popular tourist destination with many regional items.
Gatlinburg
Located in the Smoky Mountains, providing easy access to hiking in Great Smoky Mountain National Park, Gatlinburg is one of Tennessee's most popular tourist destinations. It offers a long list of attractions, from Ripley's Aquarium of the Smokies to arcade games and mini-golf. Just minutes away is Pigeon Forge, home to Dollywood, a Dolly Parton-themed amusement park with music and rides.
Memphis
While Nashville might have country music locked in, Memphis is all about the blues. Located at the western edge of the state along the Mississippi River, famous Beale Street is jam-packed with blues clubs and other live music venues along with restaurants and bars. There's lots of Elvis-related history, including famous Sun Studio where he recorded, while his home Graceland is just a short drive south, offering tours that will fill you in on everything you wanted to know about his life and music. One of the largest urban parks in the country, Shelby Farms Park, is found here too. More than five times the size of Central Park in New York, it offers forests, wetlands and lakes that provide natural habitats for a variety of wildlife.