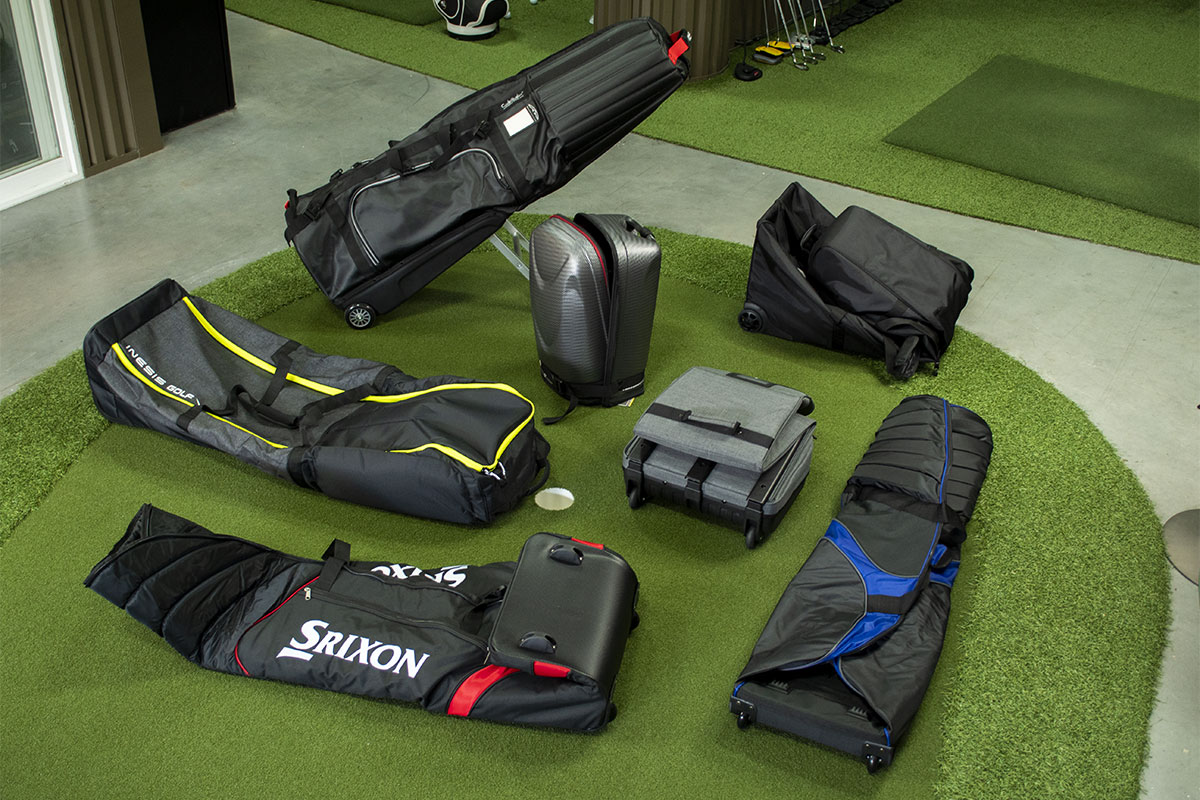 Best golf travel bag keeps your clubs safe on your next trip. No matter how far along you are in arranging your next golf trip, you'll want to double-check that you have all of the necessary equipment before departing. It might be difficult to keep your golf clubs safe when traveling, so you'll probably want to invest in a good golf travel bag. While flying, these travel bags and cases are designed to contain your normal golf bag, a set of clubs, and a few accessories.
Our top picks:
Samsonite Golf Hard Sided Travel Cover Case
SKB Cases ATA Deluxe Standard Hard Plastic
Callaway Golf 2019 Clubhouse Collection Travel Cover
Amazon Basics Soft-Sided Golf Travel Bag
Samsonite Golf Hard Sided Travel Cover Case
Samsonite is one of the most well-known luggage manufacturers, but its offerings go beyond suitcases and duffel bags. Because of how well it protects golf clubs when traveling, this durable golf travel case is a favorite among golfers. In addition to an inner layer of padding, the layer of foam on top of the bag protects the clubhead. It can fit 10.5-inch golf bags and clubs up to 48 inches long, including huge drives. In addition, the golf travel bag has a total of six wheels: four spinner wheels that move in all directions and two skate wheels for pushing or pulling the bag.
It shielded clubs on their journey to anywhere, and the luggage handlers did not appear to inflict any damage. Samsonite is known for its high-quality luggage and travel bags. Many golfers will be eager to check out this hard-sided golf travel case from a reputable manufacturer.
With four spinner wheels and two inline wheels, moving this case around is simple, whether standing it up or dragging it behind you. The lightweight ABS Shell gives the outstanding protection that you'd expect from a hard case. Extra protection for your club heads is provided by a padded and foam-cushioned interior.
Larger golf bags and longer clubs can also be accommodated in this case. The sole drawback to the Samsonite golf cover is its limited storage capacity. This isn't just a problem with this model; it's a problem with all hard-sided covers. Because the container is 54 inches long, be sure you have enough storage space in your rental car and at home.
Pros:
One of the better options for overall security.
Good movement is possible thanks to the multi-directional and skate wheels.
Luggage from a well-known brand
Lightweight and long-lasting.
Cons:
There was a substantial amount of storage space required.
Not the most stylish of options.
SKB Cases ATA Deluxe Standard Hard Plastic
One of the most robust alternatives on the market is SKB's hard-sided golf travel bag. It's composed of strong plastic that keeps dirt, dust, and moisture out, and it even has a TSA locking system and industrial-strength latches to keep your golf gear secure. The golf case features a curved shape that fits drivers up to 48 inches and offers a snug and secure fit for your bag.
The golf travel bag is described by many customers as "very durable" and "worth every penny." This is the only bag that has stood the test of time. One of the most popular cases for golfers is the SKB Deluxe ATA Golf Hard Case. The strong polyethylene shell is the industry standard for keeping cart bags safe and secure, as well as protecting club heads and golf clubs.
This durable case can accommodate any type of bag you would need to bring, and it's the ideal golf case for ultimate protection. When you take your golf game on the trip with one of the best golf travel bags, passing TSA inspections will be easier and more enjoyable.
Pros:
The SKB can accommodate 48-inch drivers.
Both cart bags and carry bags can be accommodated.
It has a bulletproof design that will keep your clubs safe in any situation.
Cons:
Because it is a full hard-shell case, it is a little unpleasant to store.
Callaway Golf 2019 Clubhouse Collection Travel Cover
You can easily purchase any of the aforementioned branded coverings if you have a favorite brand or want your bag to match your golf clubs.
In 2021, the Callaway Clubhouse has all of the features you'd expect from a golf travel cover. For increased golf bag security, there is enough cushioning, a sturdy reinforced wheelbase, and exterior buckle straps.
This tool is nothing exceptional, but it is well-made and accomplishes the fundamentals well, as you would expect from a Callaway product. Although there may be better options at the $200 price point, Callaway enthusiasts are likely to like this travel cover.
Callaway Golf manufactures a wide range of products in every category, including clubs, shoes, clothes, and travel bags. Callaway provides four various types of travel bags—or travel covers—including the Fusion, X-series, Big Bertha, and Hybrid models under the travel bag—or travel cover—category. There is a range of characteristics to consider while choosing the perfect travel bag for your current golf bag and equipment within these categories.
The Callaway Chev has a nice look to it, which makes it more enticing to potential consumers. The Golf Travel Bag with Wheels is a high-quality investment. It's also one of the Best Golf Club Travel Bags for the Money.
The bag is constructed of 1000D polyester rzsteria! The backpack is effortlessly organized thanks to the seven-way top and full-length compartments. 
The handles and wheels add to the overall appearance. It's a lot easier to transport.
With a weight of only 5.5 lbs., the bag is still quite light. The bag, however, does not come in a variety of colors for golfers to pick from. Furthermore, some consumers claim that the legs stand is flimsy. Overall, this Golf Travel Bag is an excellent purchase.
Pros:
A portable stand bag.
The Seven-way top and full-length dividers are easy to organize, and it's easier to pull clubs out and put them back in.
With multiple large compartments, the bag provides a lot of space.
The external handles and wheels make it simple to lift and pull.
The casing is fairly durable because of the material.
Cons:
There is no working towel ring in the travel bag.
Customers complain that the leg stand is flimsy.
Amazon Basics Soft-Sided Golf Travel Bag
This is an unusual step into golf travel for Amazon, but this bag is good value for money and a good choice for golfers on a budget.
This soft-sided bag accommodates a normal driver and works well with a stand or cart bag. Multiple external pockets provide useful extra storage as well as adequate padding to protect the clubheads. This travel bag is under 9 pounds and incorporates inline skate wheels for convenient mobility and transit.
The Amazon Basics soft-sided travel bag, on the other hand, would suffice if you're searching for a less expensive solution or something for shorter trips.
Pros:
At less than $60, it's a good deal.
Lightweight and easy to store.
The storage area is quite generous.
The clubhead section of the bag has good padding.
Cons:
The product's quality isn't as good as more expensive options.
There isn't as much padding in the bag's center/bottom, which is very important for plane travel.
---
Things you must know:
An ideal golf travel bag should include:
Soft Case vs. Hard Case (Protection)
The case construction is the first thing you'll notice about the large range of golf bags.
Some have a hard shell (hard cases), while others have a soft shell (soft cases), baggage. Depending on your golf trip requirements, each has advantages and disadvantages.
Soft cases offer the advantage of being less expensive and easier to transport, especially if you have a smaller vehicle. Plus, when you're not traveling, they're a lot easier to store in your garage. Hard cases, on the other hand, are typically significantly larger and heavier than soft cases, but they also provide additional protection for your golf clubs.
Padding & Durability
The next most crucial consideration when choosing a golf travel bag is that it is robust and has enough padding inside to protect your clubs. Some have a compression strap on the inside. Others do not, or do not have as much padding on the interior.
Amazon to keep your clubs safe from being crushed. When you're out of town, the last thing you want to deal with is a snapped driver shaft. Keep your clubs safe and pack appropriately, especially if traveling by plane.
System of Wheels
Another feature that can assist you in moving around in busy areas is the wheel system. Some golf travel bags include spinning wheels, but the majority simply have two wheels (similar to inline skate wheels), making it much more difficult to maneuver. When looking for a golf travel bag, make sure you consider the following factors. Consider the wheel system that best suits your needs.
Price
Another important consideration is the bag's cost. These golf bags come in a variety of styles. Depending on the model and brand you choose, they can range from cheap to $500+. Price isn't everything when it comes to golf gadgets. It's critical to pick a bag that meets your needs. Budget, but it will also endure a long time, so you won't have to do it again in a year. Remember, the clubs you undoubtedly spent thousands of dollars on will be protected by this travel bag. Don't be cheap now and suffer later if something goes wrong with them while in transportation.
Weight
It's crucial to purchase one that's pretty straightforward to transfer back and forth depending on how frequently you travel. If you're older or have back problems, a lighter, soft shell bag is always recommended to make putting them in and out of the trunk easier. There's no reason to suffer. Injuring yourself on the route to your golf holiday is a waste of time. 
Another significant consideration is the quantity of storage space available within the bag.
Soft cases usually win in this category because they offer 2-3 extra pockets outside the bag to store golf accessories (such as balls and golf shoes) and other equipment. Extra storage is especially useful if you're playing somewhere where the weather is unpredictable (like Bandon).
When it comes to the total weight of your golf bag, it's critical to remember to constantly check airline guidelines. You'll usually have to pay an extra $25 to $50 each if it's beyond 40 or 50 pounds.
Warranty
The guarantee is the final consideration when choosing from our list of the best golf travel bags. Look for a warranty from the bag's manufacturer (which is increasingly important for air travel). This is especially true for softshell turtles.
Hard-shell bags seem to last a lot longer than cases because they can develop holes and tears. When investigating these travel bags, I was shocked to learn that some companies provide warranties. That includes incidents involving air travel.
Conclusion:
Whatever your trip, you will most likely have two club alternatives. You can either bring your clubs or rent them. Many golfers like to bring their clubs with them on vacation. You may then relax and enjoy your golfing vacation without worrying about the quality of the rental clubs or whether you'll be able to utilize them. Because there are so many various types of golf travel bags on the market, determining which ones are worth purchasing can be difficult. The information provided above may be of assistance to you.
---
FAQ'S
How much should my golf travel bag cost?
Golf is not a cheap sport, as you surely know, but it is so addicting that most golfers would do and spend whatever it takes. 
If you're the type of golfer who travels regularly, you should invest in a bag that prioritizes the protection of your equipment. With a travel bag, appearances aren't as important as they are with a suitcase. A standard stand or a carry bag for frequent travelers, safety comes first.
You'll also want to make sure it's far within weight restrictions so you don't have to worry about it every time you fly. There's nothing more aggravating than having to relocate your belongings, thus you don't have to pay additional luggage fees
If you only go somewhere once or twice a year, a more budget-friendly soft-sided bag is a better option. While they don't provide the same level of protection as a hard-sided bag, they are nonetheless useful.
Each of the bags listed above is a high-quality golf travel bag. Plus, depending on your decision, you'll save 50-75 percent.
What are the most effective techniques to fill your clubs?
Regardless of whatever bag you choose from this list, make sure to follow these guidelines to ensure a successful purchase. Getting your clubs securely to their destination. If your driver and fairways woods are adjustable, disconnect them to safeguard your club heads.
Then, to save space and weight, keep them in the pockets of your suitcase or a separate, checked bag.
For irons and other clubs, use towels or bubble wrap. Even though it requires more effort, you may ensure that they are not scratched when traveling.
Before you go to the airport, double-check the weight of your luggage. Also, check with the airlines to see how much weight per bag is allowed so you don't have to pay extra.
Avoid placing anything valuable in your bag in case it is misplaced (for example, a GPS watch, a high-end rangefinder, a golf GPS, and so on). If you lose your clubs, it's bad enough; don't make it worse by keeping other valuables inside. Before you go to the airport, snap pictures of your belongings. This way, you'll have proof in case something goes wrong while you're on the road. If you're apprehensive about utilizing a soft-sided bag, use a stiff arm. The length of a stiff arm is a few inches. Longer than your driver, resulting in a more durable outer shell.