Travel Tips
The Pizitz Food Hall: Delicious Food Waiting for You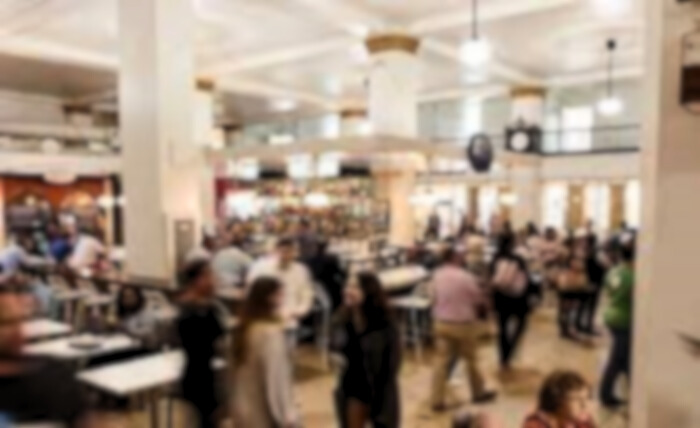 I live in New York, and I travel a lot for work. It's also a passion of mine to go to new places and try their culture and meet new people.
On all of my trips, I have met so many new people and found out about such great cultures, and yet, there's one thing I enjoyed the most.
The food!
Yes, I'm a huge foodie, and I love trying new places for delicious food! 
Once, I had to go to Birmingham for work. There, I found the best place for the most delicious foods of different types.
The Pizitz Food Hall!
Today, I will tell you all about the Pizitz Food Hall and the delicious food you can get there.
History of the Pizitz Food Hall
The Pizitz Building is an eight-story building that is located at 1821 2nd Ave N #3112, Birmingham, AL 35203. The name of this building came from a Russian immigrant called Louis Pizitz.
This guy started his company in 1899, known as the Louis Pizitz Dry Goods Company. Initially, this business grew into department store chains.
And a man named Harry B. Wheelock completed designing the building in 1923. In 2016, after being vacant for about 28 years, it was restored. Then came the Pizitz Food Hall!
How?
After the $70 million spent on its restoration, the Pizitz Building finally opened its doors to people in March 2017.
Now, it has office space for coworking (Forge), residential apartments, two cinemas, each with 100 seats, and the infamous Pizitz Food Hall.
And so many of the people of Birmingham flock to this Pizitz Food Hall for the mouthwatering variety of different foods.
The Pizitz Food Hall and Its Stalls
When you enter the Pizitz Food Hall, you might get overwhelmed by the multiple options of the 14 different food stalls.
Yeah, I had to go there every day for each meal to be able to experience the food from all of the stalls. 
And it was worth it!
Now I will give you an overview of all of these food stalls so you can go there prepared!
SOCU SOUTHERN KITCHEN & OYSTER BAR
This was the first stall I tried. And this is the territory of Chef Erica Barrett! I've talked to her when she wasn't busy trying to deal with the rush hour, and she's a huge delight!
She has also written the SOCU Kitchen and cookbook "Shugga & Soul," which is a must-read for food enthusiasts.
What about the food?
Well, Southern-inspired foods on the menu are all delicious, to say the least. 
You will find amazing dishes like, Fried Lobster Deviled Eggs, Candied Bacon Deviled Eggs, Cajun Chicken Spring Rolls, SOCU Signature Oysters, SOCU Macaroni& Cheese, Fried Chicken and Waffles, Hennessey Peach Cobbler, and many more items.
The taste?
I keep saying they taste amazing, but you have to try the dishes yourself to understand what I mean.
ASHLEY MAC'S
If you're in a hurry and want to take your food with you, or you want a light snack that's also appetizing, you should try this food stall.
They have a really good menu with different types of sandwiches like Apple Havarti, Hot Ham & Swiss, Pimento Cheese Blt, and more.
They even have great salads like Baby Bleu, Cahaba House, Chopped Blt, and Mandarin Orange, apart from other types of dishes.
BIRMINGHAM CANDY CO.
After a delicious meal, you might want to go for something sweet, obviously. So you should definitely look into this food stall.
Open from Monday to Saturday, this food stall offers food items, along with candy that are all handcrafted.
DOUGH BOY PIZZA
Who doesn't like pizza? A crazy person that is! Now if you're near Birmingham and you are craving pizza, this food stall is the best place to grab a bite at.
They have many options for mouthwatering signature pizzas. And the best part is that you can even get a custom one.
BROAD STREET + NOLA ICE
This food stall offers many great items. Things like The Parkway, The Jean, The Cassie, The Biggie, and the General Lee are just some of the great foods this stall has to offer.
ONO POKE
Their motto is, "More Poké Less Problems"! It's a very popular food stall with various dishes that you can customize yourself.
They serve different types of rice, toppings, and sauces! Pick any one of them to make your customized dish!
PHO PHO
If you're looking for Korean food, the Pho Pho food stall is the best place to get it. And they have a great menu too!
Dishes like Drunken Noodle, Takoyaki, Korean Bulgogi, Bibimbap, Panag Curry, Massaman Curry, and other items are their specialty.
J WINGS
Want chicken wings? No? Then, maybe some other chicken-focused food? Well, then, this is the food stall you are looking for.
SILVER KATI
Almost like the Ono Poke, this one also lets you customize your dish, as you can choose from different types of base, protein, and sauce.
THE SPUN COW
Want dessert but in liquid form? Say no more! This food stall lets you choose from various floats, milkshakes, and even fresh cotton candy!
THE STANDARD
Hamburgers, sandwiches, hot dogs, and fries! Everybody loves these. So if you're in the mood for them, go to this food stall.
UNOS TACOS
Yes, tacos! Unos Tacos brings the flavor of Mexico, especially Tabasco and Puebla. Don't miss out on this deliciousness!
I LOVE TINA & GINA'S
Another great option for sandwiches is the I Love Tina & Gina's. This food stall is open from Monday to Saturday from 11 am to 8 pm.
THIRSTEA CAFE
Want specialized milk teas, smoothies, boba teas, fruit teas, and more? Then, you should definitely go to this food stall at least once.
Conclusion
I have had a delicious food adventure at the Pizitz Food Hall with all their amazing food stalls with even more amazing foods. You should try them out, too!