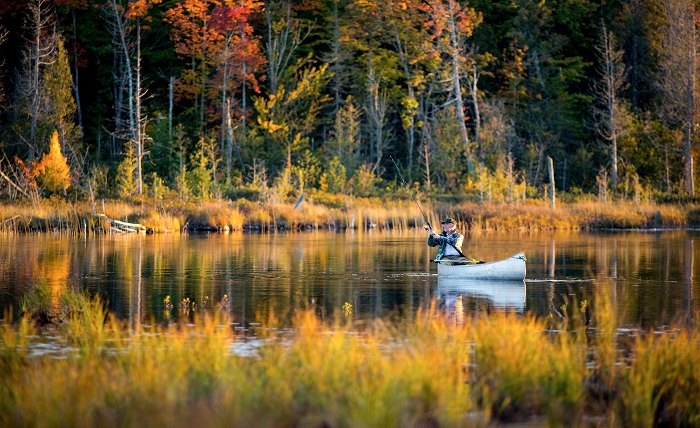 Whether you live in the United States of America or in another country, Michigan is one place you should definitely visit at least once in your life.
Michigan is actually a gem but really under-appreciated, which is why I am urging you to make the trip.
You can have the time of your life at the Great Lakes State of Michigan, the myriad tiny harbors on the shores of Michigan, the micro-breweries, various creative pop-ups, and the multiple museums there.
This state is divided into two peninsulas, mostly surrounded by expansive waters. If you're a nature lover, you have to visit.
Wonder what is the best place to stay in Michigan? Don't worry! I have a list of places that are worthwhile.
The Snug
Yes, you can stay at a hotel, and there are many of those in Michigan. But I want to talk about places where you can truly appreciate Michigan and nature.
And The Snug, located in Traverse City, is such a place you should stay if you are a nature lover, after all. This is actually a cottage you see in storybooks on a ten-acre property.
It's quiet and serene!
And don't worry! You will be able to experience some upscale amenities when you are there. This place was built for people who want to reprieve in a cozy yet rustic place surrounded by nature.
This off-the-grid cottage has a stunning cedar bathroom designed after vintage outhouses. It's clean and even heated inside.
Sorry, no Wi-Fi!
But you will have access to the fully-stocked bookshelves there. And you can enjoy the unique over-the-bed skylight as well as the amazing local art that hangs on the walls.
Big Bay Point Lighthouse Bed and Breakfast
Speaking of enjoying nature and amazing views, the Big Bay Point Lighthouse Bed and Breakfast, located in Big Bag, is one place you will never forget if you do stay there.
This bed and breakfast is historic, as it was housed on the shores of the beautiful Lake Superior in an 1882 lighthouse.
Everyone who stays at the Big Bay Point Lighthouse Bed and Breakfast has consistently said good things about this place.
Like what?
Well, some of the people who have stayed here, as well as those who haven't but know the place, say that it is the coolest and best place to stay in Michigan.
The historic brick lighthouse there has always led the passing boat to their safety manually and does so even to this day.
But now it's automated!
This hotel is surrounded by a wooded property of 40 acres, where you can roam around or even take a hike.
And if you're interested in the lighthouse, you can even climb up and experience the wonderful 120-foot above-ground panoramic views.
Henderson Castle
Now who wouldn't like to stay at a castle, right? You can achieve that kind of experience in the Henderson Castle situated in Kalamazoo, Michigan.
It's a castle-like mansion. But now it is actually a bed and breakfast right in the middle of Kalamazoo.
Live like real royalty!
Originating from the year 1895, this Queen Anne house has a noteworthy interior with upscale finishes like rich mahogany components and marble floors.
And the exterior of this house even sports beautiful Lake Superior sandstone. Even filmmakers appreciate the beauty of this mansion. There have been three whole scary movies shot at this house!
Conclusion
There are so many hotels and even resorts to stay at when you visit Michigan. But the best place to stay in Michigan are the ones I talked about because they are unique and beautiful.